Clinical / Psychological Services
I am a clinical psychologist with 20 years experience. Licensed in Ontario (#2986) and California (PSY 18522 - Inactive), I provide face-to-face counselling and therapy out of my office in Barrie Ontario, and when appropriate, one-on-one tele-therapy by phone and Internet across North America.
My Philosophy and Approach to Clinical Services
My clinical work has been informed by my training in clincial psychology, holistic health care, and mindfulnes based meditation. The result is a synclectic and collaborative approach that embraces the client within a genuine, respectful relationship.
Techniclly, my training has been most strongly influenced by the cognitive-behavior, mindfulness based, and humanistic schools, but I have integrated diverse other perspectives and techniques into these. I have found this to be a flexible, adaptive approach that I characterize as "eclectic with a vision".
If you have any questions about my clinical work or professional qualifications, or would otherwise like to discuss my availability, please contact me by phone or e-mail.
Please Note: Therapy, counselling, and coaching are related but they do differ in important ways - See How do therapy and coaching differ? For legal and ethical reasons, psychologcal services and coaching are kept separate. Although you can receive "coaching" during therapy, the reverse is not true, and should you contract with me to to receive coaching, it is important never to confuse that with receiving therapy. Acordingly, it is important that you make an imformed decision about your choice or service. If you are unsure which would benefit you most, please contact me for a free consultation.
Fees
My standard fee for face-to-face counselling and therapy is $205.00 per session, and for one-on-one tele-therapy (phone or Internet) it is $150.00 per session. Unles otherwise arranged, sessions are 50 minutes in length. I will occasionally use a sliding scale in special cases. If you believe your circumstances warrant a special rete, please contact to discuss the matter.
Online Payment
You can now make a payment for your counselling or therapy online through PayPal. Click on the PAYMENT tab above to receive instructions.
Areas of Expertise

Issues I prefer to work with include:
Anxiety and Depression
Stress Management
PTSD - Military
Non-Military Trauma
Relationships
Major Life Transitions
Holistic Lifestyle Changes
Existential Issues
Spiritual Explorations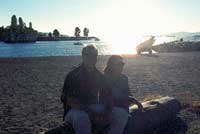 New!
For your convenience, I have posted a number of ARTICLES relevant to psychology, coaching, and holistic wellness. I invite you to peruse these as they may help you glimpse my philosophy and how I work.